This really is my favorite month! To me it is the time of year that it truly feels like fall and I can break out all my awesome fall layers, coats, and boots. It is the month I was born which makes it pretty darn cool. And it is the month where it becomes acceptable to play Christmas music 24/7 ;o) (wait, that's just me... oh, well you're just missing out then!)
I am super stoked about this November!
First
: I will be starting my Handcrafted Christmas Series next week. I'm attempting homemade and semi homemade gifts for most of my family this year... we'll see how it ends up, but it should be fun to watch it either succeed or crumble into a pile of chaos!
Second
: I have been asked to participate in an awesome series by Heidi at
Elegance and Elephants
called Knock It Off November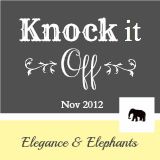 This is the first time I've been asked to guest post for a series and I am so EXCITED!!!! She already has a great

accessory

post up and tomorrow will kick it off right with her knock off outfit.
Third: I will be sharing a guest post tutorial over at Project Run and Play.... any guesses as to what I might share????
Fourth: My sister and I are going to start doing some shared posts. Let me just say that my sister is AMAZING!!! She is a military wife and mama to three kids, she sews, designs, creates patterns... and is I think one of the

original

followers of LBB ;op We

haven't

worked out all the

details

yet, but whatever we do together will be way more inspired than what I could ever do on my own.

Check out her blog to see some of the awesome stuff she has done: The Kestlyn Collection.
And FIFTH - my awesome husband has set up a date night for us on Saturday. We haven't had a proper (all by ourselves - in our hometown) date since baby girl was born, actually

since I was about 7 months pregnant with her. I am happy to get out just with hubs and catch up and just be us. *we have gotten out sans kids a couple of times, just with other couples or to do non 'date-y' things.*
What are you excited about this month???