Wohoooo - I made it to the top 5!!! Help me get on Project Run&Play by voting
(voting closes Sunday)
So, most of you probably saw my original post for my
JCREW knock off dress
last week over and Elegance and Elephants (if not, go
check it out
- there is a full tutorial for making your own, if you dare ;op) And you may have noticed that there was a lack of pictures of baby girl IN said dress. Well, every dress needs the perfect accessories - the accouterments/bling/shall we say 'FROSTing' (name that movie!) that make an outfit perfect. And I was just slack on putting together the finishing pieces after finishing the garment itself.
Here is the knock off comparison: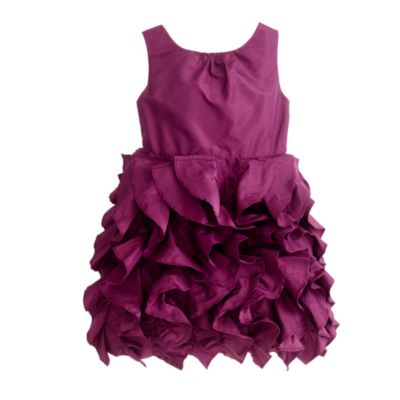 JCREW's
Mine
I knew all along that I wanted some kind of sash and every girl needs something in her hair!
The sash is just this great sparkly black ribbon tied in a big bow - I didn't want it to take anything away from the dress itself. And the Headband is an extra ruffle gathered into a rosette with a button jewel sewn into the center with silver thread. The rosette is sewn onto one of those great elastic headbands you can find in a 6-10 pack at the $1 store. Easy peasy.
I am absolutely in love with the finished look - so thank you Leslie, for asking me to be a Bridesmaid in your wedding 7 years ago, so that this dress could someday come to be!!!
(*Oh yeah, everything is upcycled - except the ribbon sash and elastic band for the hair piece)
I am so excited (read nervous) to be entering this ensemble into the Audition pool for
Project Run & Play
. If I learned anything by sewing along last season, it is that there is no shortage of talented women in the world sewing for their 'littles'.
And here is baby girl (who I think, just maybe, enjoys all the modeling her mama forces her to do):
what says 'Christmas dress' better than hanging it in a fir tree?
Thanks for stopping by - I hope you like what you see ;o)